Company Profile
Mission: Provide the complete Japanese software communications solution. By 1998, Neocor aims to lead the world market for Japanese machine translation outside of Japan, providing the full complement of MT, OCR, and text editing programs on Windows and Internet platforms.

Founded: January 1994.

Finances: NeocorTech is a California Limited Liability Company, privately owned by the company founders.

Milestones:

Neocor has established the dominant position for Japanese products on the U.S. and European desktop markets and introduced the only Japanese OCR product available for non-Japanese computers. The company is now expanding into new areas with its translation technology such as the server and Internet markets.

1. Tsunami MT version 6.0 Released! (August 1, 1997). NeocorTech LLC has released Tsunami MT 6.0 - This version offers the following new and enhanced features: improved translation quality, TrueType fonts, a Kanji reader for displaying the Hiragana / Katakana / Romaji of selected Kanji, and the ability to send Japanese email. Version 6.0 continues Neocor's leadership in the Japanese translation software market, with complete OLE 2.0 / 32-bit windows capabilities and high-quality sentence-level translations.

2. www.neocor.com established an extensive website presence as early as November 1995, is advertised on Yahoo and featured on multiple internet directories as one of the top sources for Japanese software on the Web. As of April 1, 1997, NeocorTech offers a secure online order system for ordering Neocor products directly from our website. Customers can now securely place an order using their web browser and Neocor will pay the shipping.
3. Free Demo software of all Neocor software is available via download over the World Wide Web or by requesting one of our free demo CD-ROMs (version 3 was released in August 1997 with an advanced install / interaction front end). The demo programs run on English Windows 95 or Windows NT.
4. Neocor software has been reviewed by PC Magazine (June 1996), Windows Magazine (June 1997), Mangajin (multiple reviews), Computing Japan (multiple reviews), Multilingual Computing, and other major international publications.
5. Tsunami Notebook Released (15 March 1997). New for home users, students and others who want one solution for their Japanese software needs, NeocorTech released Tsunami Notebook, a "basic" version of our popular Tsunami MT product for only $195.00 (plus shipping). It comes with E-J translation, Japanese e-mail, a Japanese front end processor (FEP) for typing/printing Kanji and Kana, Kana tables for learning Japanese, and much much more!
6. KanjiScan Japanese OCR Released (31 January 1997).
7. Dictionary expansion (bi-directional) now available for Physical Sciences and Biological Sciences (September 10, 1996). Neocor recently released its first two expansion dictionaries, each available for E-J or J-E for only $195. These professional dictionaries are easy to install and use. The NeocorTech professional dictionary system is designed to generate better translation results for technical jobs in the Biological Sciences (including Medical fields) and Physical Sciences, and have a proven track record in Japan.
8. Neocor Technologies Products Receive Windows 95 Logo. Neocor Technologies' Tsunami MT and Typhoon MT were recently approved by the Designed for Microsoft® Windows® 95 program. This certification verifies that Tsunami MT and Typhoon MT were designed to work with all of the new technologies in Windows® 95.

---
If you're driving to Neocor, follow these directions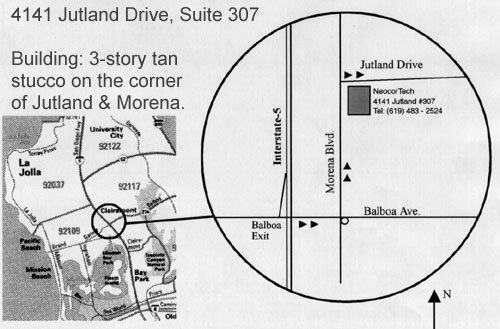 Take I-5 to the Balboa exit (Pacific beach)
Go EAST (inland) on Balboa -- 100 yards
Take the Morena "loop" NORTH -- 1 mile
Pass Price Club (on Morena)
Turn RIGHT on JUTLAND (at stop sign)
Turn immediate RIGHT into parking lot.