sweet enonymity
the advisor software: what it is, how it works, and why we made it
The advisor is a very small downloadable file that self-installs on a user's PC. Hundreds of thousands of users tried the program after it was released in October 1999. The program has three functions: (1) it automatically completes online forms on any webpage. Any. (2) it provides users with a privacy rating of website privacy policies for thousands of the most popular sites. (3) it offers the user the option of creating an enonymous profile, completely separate from identifiable information, which is how we offer all the long-term benefits of enonymous personalization (not to mention, our revenue stream).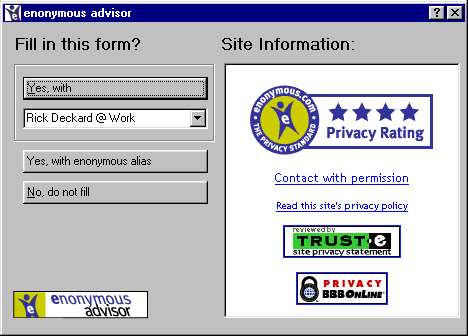 The program only works with the Internet Explorer browser, even though we spent probably half a million dollars paying very sharp engineers to get it to work on Netscape and AOL, and were ultimately frustrated by their lack of programmer support. The advisor.exe program is self-extracting, and you can set it up in about 2 minutes (if you're smart) or longer (if you're like me).
Click here to download the advisor
"One of the most effective solutions to registration overload is enonymous.com's Enonymous Advisor, a software program that stores personal information on a person's computer and automatically plugs it into the appropriate registration boxes upon the user's request."
- New York Times, December 23, 1999.